A recent public spat between an insensitive author and a somewhat touchy visual artist who created a cover for the author's book has led to some thoughts, the ghost of a plan, and an incipient invitation/proposition to an as-yet-unidentified artist. Below you'll find all three.
Thoughts

I'm an author with one 'officially' published, and another 'indie' published novels. More info on who I am is available freely in
this eBook
from Smashwords.com.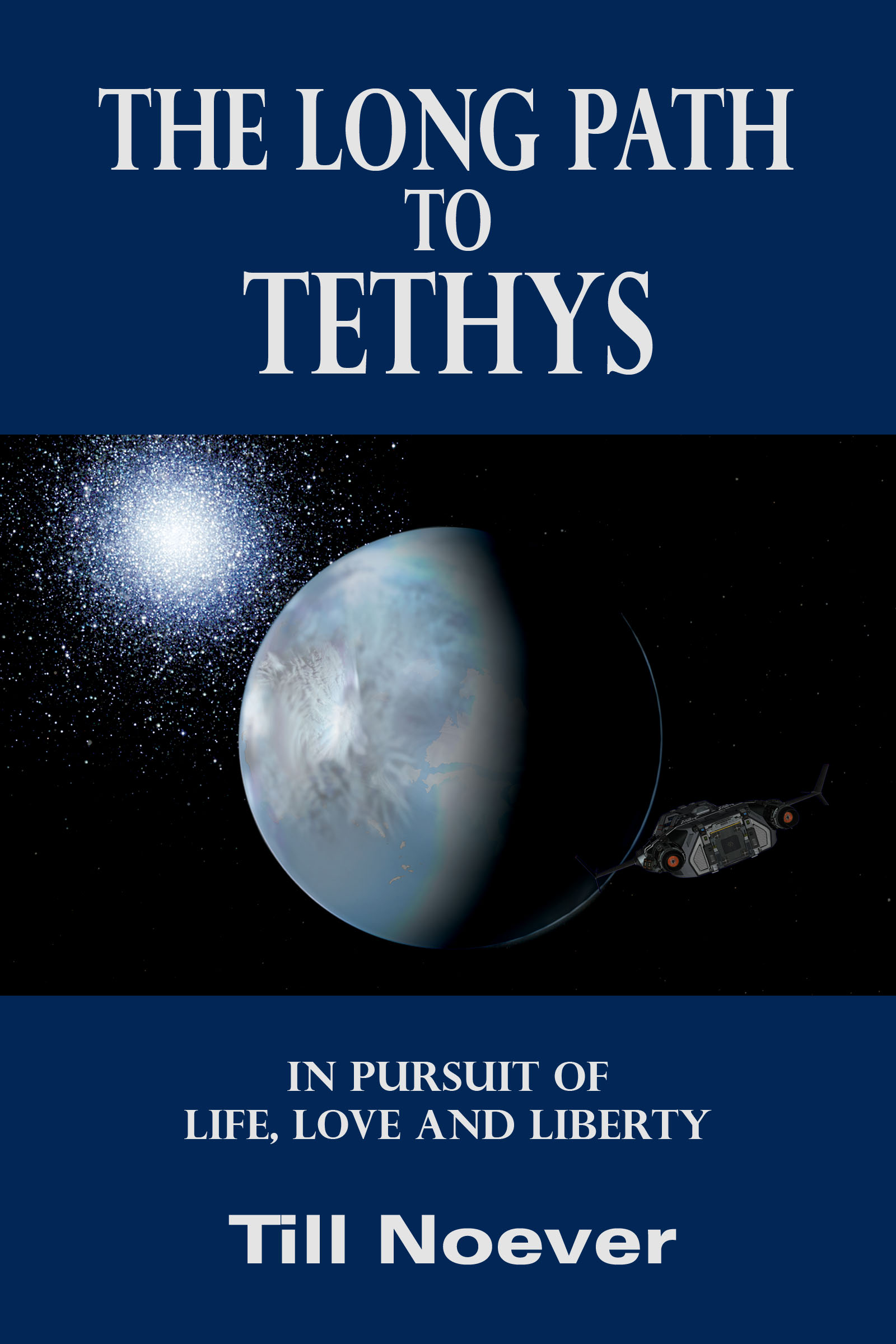 Total earnings for my books, paperback and eBook, are minuscule. I have outlined possible reasons for this in the eBook near the end. Take them for what they're worth.
Yet I keep on telling stories. Why? Also in the eBook. Plus a a lot of other answers. And the Smashwords page with the book also has a bio.
By the way, the reason why I keep referring to that eBook is that only those who are actually interested in my proposition below are likely to want to find our more about me. No point repeating everything.
Right now the covers for the novels in the
Tethys
Series—which is what most of my fiction was focused on until I started thinking about multiverse and AI and related matters—were produced by me, mainly because I (a) don't earn enough from the books to be able to afford a good cover artist and (b) work as a full-time technical writing contractor; which leaves me just enough time for the storytelling part and cobbling together some amateurish covers. If I had the time to do the art I would, because I
can
, but like writing, visual art needs practice practice practice and I haven't got the time for that in my life on top of work, family and writing.
One thing I've noticed since joining Facebook years ago—and I don't do Instagram, by the way, though I often browse through Pinterest—is that there are a staggering number of unbelievable talented visual artists in this world—working in digital, mixed media, or just using plain old beautiful
paint
! Their work covers everything, from fantasy/SF/gaming/AI to traditional landscapes/nature scenes and portraits that would put Jeffrey Jones to shame; or Frank Cho, or Luis Royo, or any of the big names extant these days.
And so many of them, like me, aren't going to make any money out of it. Like me they do it because it's a passion, and maybe also because, like i, the case for myself, it's some weird kind of free and possibly very enjoyable psychotherapy. Compulsive creatives. I understand that. Been there, and once I was there, it was and remains like a drug that I can't give up. Nor do I want to.
Once upon a time these artists would maybe have become reasonably well known, but nowadays the best the vast majority of them can do is follow their passion and share their work on social media and in artists' hangouts. I know that's better than nothing, and it creates 'community'; which is another thing that keep us going. I, too, have 'fans', who love my books, and I do appreciate them and their encouragement. But it's a narrow scope. Visual art, like stories, wants to be 'out' there; beyond the echo chambers of the like-minded. That's what it's for.
Money... No, it
isn't
everything. If it were I wouldn't be writing novels. Not would those amazing visual artists continue to do their stuff. Us creatives would like to make money out of our work, so we can do what we love. But maybe it's better that we're
not
getting rich. As I explain in the eBook, 'getting published' isn't what a lot of people think it is. Besides, it's going to go out of fashion anyway; at least the traditional industrial method that had me publish
Keaen
, before I went indie.
There is a freedom in 'indie' that's quite heady. The drawback is that you'll end up with having to proof-read yourself as well, and for an author that's a dog. I still find the occasional errors in books I have published years ago, and which have been re-proofed several times. I do that on a yearly basis, because it creates a distance and makes you find stuff you missed before.
On the other hand, not having an editor is
freedom
. And it is my considered opinion that I'd rather write what I want to write and structure the story as I want to, than having a editor tell me to do it
this
way and not
that
. I
like
my stories and my characters and I don't want them messed with by someone who doesn't have the relationship with them that I have.
Covers... For me, the cover of a real book is a part of the book; part of the story; a nudge for the reader into the world of the story; something that captures a part of the essence of
this
story. This can be done in many ways. I'll add images below to demonstrate what works for me and what doesn't.
The artist who was pissed off about the insensitive author's comments does amazing work. But the cover in question wasn't his best. And he stated that he couldn't have been bothered to read the novel to begin with. And it was the publisher who provided the brief for the cover. A recipe for disaster of course, as evidenced by the initial cover for
Keaen
(see eBook). But that's the way of 'industry', which is about making money and lacks passion and engagement. And publishers' cover designers are probably worse even than editors when it comes to realizing a novel's vision. They just want a cover; not a part of an artwork that actually makes it whole. Of course, sometimes even cover artists who have read a book do not understand its tenor and spirit. The disaster that is the first
Keaen
cover makes that amply clear. And, no,
nobody
asked me about it before they ran a print run with that. And I was so grateful that I had found a publisher at all, that I would have said nothing anyway.
No more of that, thank you! Indie is good. It may not be profitable, but at least we can keep our integrity intact.
Which brings me to...
The Ghost of a Plan
'Starving' writers—here's one; not starving
per se
, but not doing it for the money either!
'Starving' artists. Those who do it because they need to and get something out of it by doing it.
I suck at covers.
There are a gazillion amazing artists out there who don't.
I've worked with an artist friend of mine before, who produced the map for
Keaen
. It was a collaborative process, with me providing an initial map done in a truly primitive ancient drawing program on a
Macintosh LC
. From there we went to the final map below.
Unfortunately Paul was too busy with other matters, like life, to do some maps for me for subsequent books, which meant that I, with his assent, shamelessly copied his style—except for the labels, which generated in Photoshop—and produced some more maps for the sequels, of which currently there are four.
Not to the standard of Paul's drawing, but close enough.
The ghost of a plan is that I need a way to produce a total of ten cover images, which will end up on wraparound trade paperback covers published via CreateSpace.
Right now the books in existence have the covers as shown below. The front parts of the covers are extracted from the original images, and they were designed to have a uniform look, so that they can be immediately identified as part of the series. The prequel covers—prequels came later publication-wise and started off as eBooks only—only have images on the front. Done with eBooks in mind and the design qualifies as 'very parse'. Just enough to have a cover. Not good enough to satisfy me though. Neither do my other covers.
... next in line
... in progress (soon to be published)
... next in line
An Invitation/Proposition
I don't know if I'm so far off the reservation that people who read this are going to get pissed off at me, or if the main reaction is suspicion. Which I would understand given the current climate of use and abuse of intellectual and artistic property.
But I'm in that minefield myself, and I'm also a
photographer
, who does occasional professional work; and photo robbery is a curse as well, so I do understand. And when I work with models—as I occasionally do, just because I like photographing people and this is my realizable 'visual art' I suppose—they also have rights, which I am at pains to document and have duly signed by everybody involved.
So, with that in mind, I'm looking ten (10) images for these books.
Important:

Doesn't have to be just one artist for all ten! Different books have different themes and may be more conducive to different artists.
Upfront:

There won't be any pay.
I don't earn any money worth mentioning with my books, and I can't afford to pay anyone.So, if you, dear reader aren't interested, please spend time on another blog or wherever. Didn't mean to waste your time.
For those still with me, here's my reasoning...
You produce great art that may look great as a book cover. You do this out of passion and you have followers on social media and the plethora of websites of people who do similar things. And you collect praise and likes and so on, but with so much good work out there, yours, like most good work, gets lost in an ocean. "Like tears in rain."
And you produce stuff that others do as well, because that's what attracts 'likes' and attention, but that's that.
Well, how about changing your work method and motivation and motives and themes?
How about creating something that will have a story associated with it? I will provide an outline of the book itself, the spirit of it, and the emotional and approximate visual content I had in mind for the cover, to make it and the story in the book an organic, seamless 'whole'.
How about doing ten of those? They all will end up as covers to books that actually are published as trade paperbacks?
You will retain—and there will be a contract, duly signed by everybody, and controlled by applicable Australian legislation—all rights to your image, to use as you see fit.
The only thing you provide to me is a high resolution TIFF copy of the work, suitable for a book cover, in landscape format with aspect ratio of 1(h):1.5(w), at least 4000 px (h).
You will also assign to me the rights to use this image in connection with the cover of the respective book and any associated materials, such as promotional—with the proviso that whenever the image is used, you are credited in some form. In the book, this would be on the copyright page: "Cover image by YOU. Cover design by the author.
I also have to be allowed to modify the image, such as monochroming, color-adjusting or cropping it as I find necessary for the purposes it is used.
What do
I
get out of it?
Great covers. From you.
Proof that the internet doesn't have to be a place of artistic and intellectual exploitation, but that people can work together on something, making it into something better than it was before. I know this can be done, because I was one of the collaborators and international proofing team managers and e-zine editors for the Vance Integral Edition, which was a seven-year labor of love and international collaboration; and ended up with amazing outcomes (including inevitably eBooks!)
What do
you
get out of it?
Ideas for motifs and scenes.
New challenges.
Another compulsive creative to work with.
Your images on printed book covers.
A free copy of each book that uses your cover image, and up to 10 additional books at the prices Amazon charges me for author copies.
A risk-free project. If you don't do an image or I don't like it; well, it's yours anyway, so you lose nothing.
Promotion, for what it's worth, on my FB pages and blog, with more praise than you would believe. If I use your work it will be because I love it; and I'll tell everyone about it.
What do I provide:
A brief of what the book and existing covers are all about. The narrative that goes with it, including the role of the character(s) depicted. (Or the book, if you want to read it. eBook format, ePub and/or Kindle).
Some of my own images for those who work digitally. Like the globular cluster image that appears in a lot of places, the image I made of the planet itself, anything that will help create a starry, distant-galaxy background and which I've used.
Communication whenever necessary, via Messenger, Skype, email (probably best for image samples), etc.
Photos I've used to create the current cover images, including some with models, who posed, and whose images I was going to use in place of what I have; but found no time as yet to do all the rework.
Whatever else it takes to make this work.
What aligns with the kind of vision that I have for the covers—and what doesn't.

This is a difficult area, but maybe I'll show you a tiny collection of covers and digital work that I like. If some of that resonates with you, then we may have something to talk about. If it doesn't then maybe better leave it, but thanks for reading this far.

Images and Covers I

LIKE

(mainly because they capture the essence of a story)
The novels in the Tethys series have fantasy-distant-planet, near-future dystopia, and distant future 'spacey' components, so there's a wide range for someone's creativity here. The only thing I ask for is that the style matches the theme of the book, and qualifies as 'realism' with a touch of the surreal maybe. Mild, but not explicit sexuality may be appropriate in some parts; such as implied in certain costumes. But nothing that will rile Amazon or conflict with the spirit of the books, which are all 'adult content', but that's not their essence.
I'd love to discuss this more with someone who's interested in this collaboration.
FB:
https://www.facebook.com/till.noever
https://www.facebook.com/pg/WorldsOfTethys/posts/
Email:
publisher@owlglass.com
Free eBook links at Smashwords.com:
Keaen
:
https://www.smashwords.com/books/view/310347
(needs 'adult content' turned ON)
The Long Path to Tethys
:
https://www.smashwords.com/books/view/362103