This picture...
...prompted my friend J—name withheld for privacy reasons—to an email comment that made me realize that J is a genius. A 'genius', in my book, is someone who sees things that is hidden from others with his powers of perception and cognition, or analysis and deduction, or insight and intuition, or whatever have you. J also does really cool drawings and he ain't a bad writer either. A goodly collection of talent there.
Anyway...
...J commented,
inter alia
, "looks like you're on some far Vancean orb, pointing out a group of local autochthones for us", and when I replied that the imagined
autochthon
es were probably merely the gazillion tourists camping out there, he answered "from here it could just as well have been a bunch of Chasch", at which I finally not only had a laughing fit, but realized
he's right
!
Now, for a lot of you this will be utterly obscure, but among the
Vance
fans of the world, the word 'Chasch' instantly evokes the
first book
in a
four volume series
that ranks not only among Vance classics, but among the classics of '
space opera
', or, if you prefer, 'science fiction saga'. Read the summary of the first book,
City of the Chasch
,
here
, and you'll see what I mean. Strange planets—hence J's 'Vancean orb'—with aliens and humans sometimes to odd that they might as well be aliens, and yet it's only a metaphor for...well, humans and all their oddities and foibles.
And, yes, I can see how that demented picture of mine might evoke such notions in readers of
Planet of Adventure
. And, yes, I can now see part of what's prompting us to consider seriously leaving the shores or NZ to enter the orb of Oz. Because Tschai, which is populated by not only (all images are from
here
and illustrated by
Caza
)...
...the ever-warring Chash....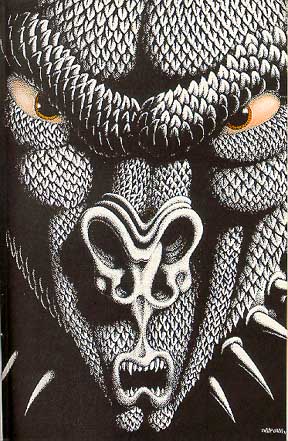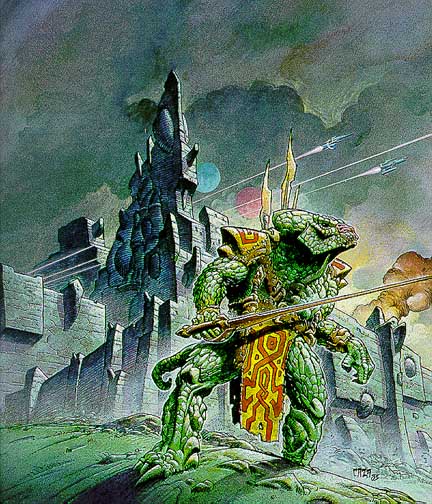 ...the Wankh—or 'Wannek', as established finally and authoritatively in the
VIE
—...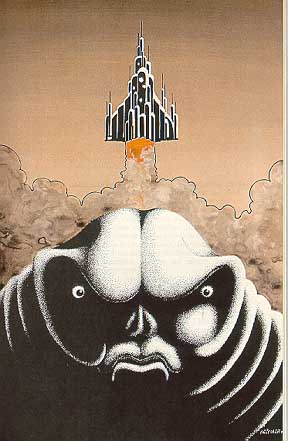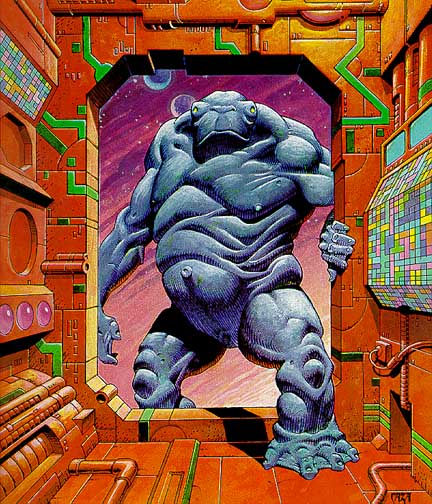 ...the Dirdir, whose sport is hunting everybody and everything else, be it in the open or in a kind of Colosseum...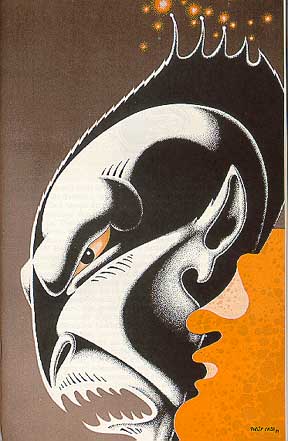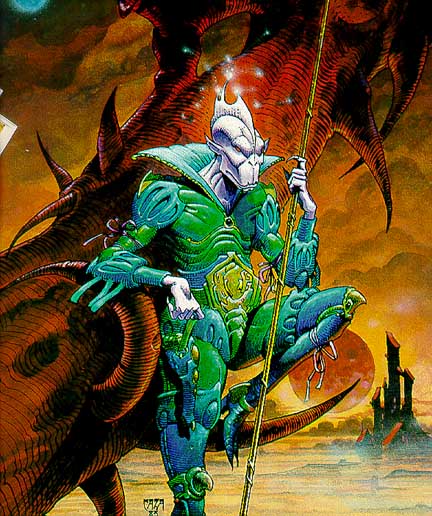 ...and the Pnume: fanatical historians, keepers of 'Foreverness'...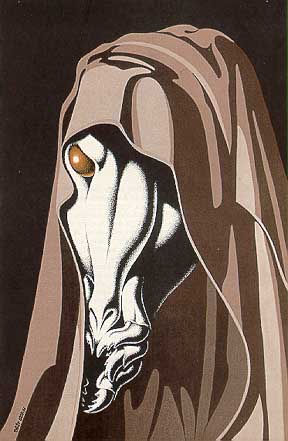 ...but I kinda can see them living here...
...or here...
...or here...
... or here...
...or here...
...though this reminds me a lot of the
Big Planet
(
review
) cover of
my old paperback edition
.
Anyway, I can understand how the picture at the top triggered something in J's head.
Somehow I couldn't see them in the New Zealand context. When you go to NZ, and especially if you're from, say, Ireland or Britain, you'll notice so much that is hauntingly familiar. If you've spent time at the coast of northern Spain, you'll also find much that, except for the people, is virtually interchangeable; including the weather. Other places have tropical aspects, that would resonate with places in South America, the southern US, and especially California.
But NZ is
manageable
. You can travel along the entire length of the South Island in a day; comfortable. Compare this to, say the
N.T.
, which is the size of France, Spain and Italy taken together. And most of that is desert and, at an estimated population of just over 200k, it has significantly less people in it that the city of
Christchurch
in the NZ South Island.
The NZ countryside can be harsh and even deadly, often deceptively so; mainly because it doesn't appear that way, and people are often caught unawares and unprepared. The same wouldn't happen in the N.T. You look out there and you know what you're facing, unless you're a total cognitive 404.
Sorry, just had to put that big-small in here!
Thanks to J I finally understand the attraction of the thing. We've lived in NZ for the last 18 years at a stretch, and though there are still places left to see, we've kind of seen most of it. It's comfortable and cozy and it has a blooming nanny-state mentality—in all the wrong aspects, of course; not in the one's where it
should
have...and what else could possibly be new with venal and hypocritical politicians (as if there were any others)—and overall it's a good, safe, handy, manageable place to be. It's just that I don't think we're ready to make this our final abode.
Well, to be honest, I can't think of anything in terms of 'final abode'—meaning the place where you will eventually to sink into terminal decrepitude and death and/or where the vagaries of contingency swipe you off the plateau of life and into the dark abyss beyond. Don't misunderstand me: I like NZ and
Dunedin
. But life is always at the brink of not being life anymore; and so
carpe diem
and all that, eh?
Time, methinks, to visit the Orb of Oz for more than just a holiday.
For, so I tell myself, who knows what
really
lurks beyond yonder boulder?